Business Casual for Women
Get It Right!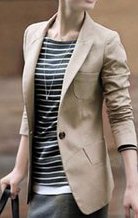 Business casual attire for women continues to pose a challenge for many women that are serious about climbing the corporate ladder. "Casual" implies laid back or not serious. However an office environment means business. it is important to choose your business casual clothes carefully. You are being judged whether it is a regular workday day or casual Friday's. When dressing for a casual workday it is prudent to stick close to your normal business attire.
Business Casual Dressing Tips
Wear well made and well maintained clothing (slacks, skirts, blouses, shoes, etc.).
Wear belts with skirts and pants.
Shirts with collars convey competence.
Dresses and skirts should reach your knee area.
Wear tights with shorter hemlines.
Save your cute trendy clothes for non business or social occasions. Trendy implies "not serious."
The less skin showing the better. Focus at work should be on your accomplishments.
If you wear jeans, forget the low rises. Dark pressed jeans are better in the workplace.
Slacks and skirts with sweaters and un-matched jackets say "casual."